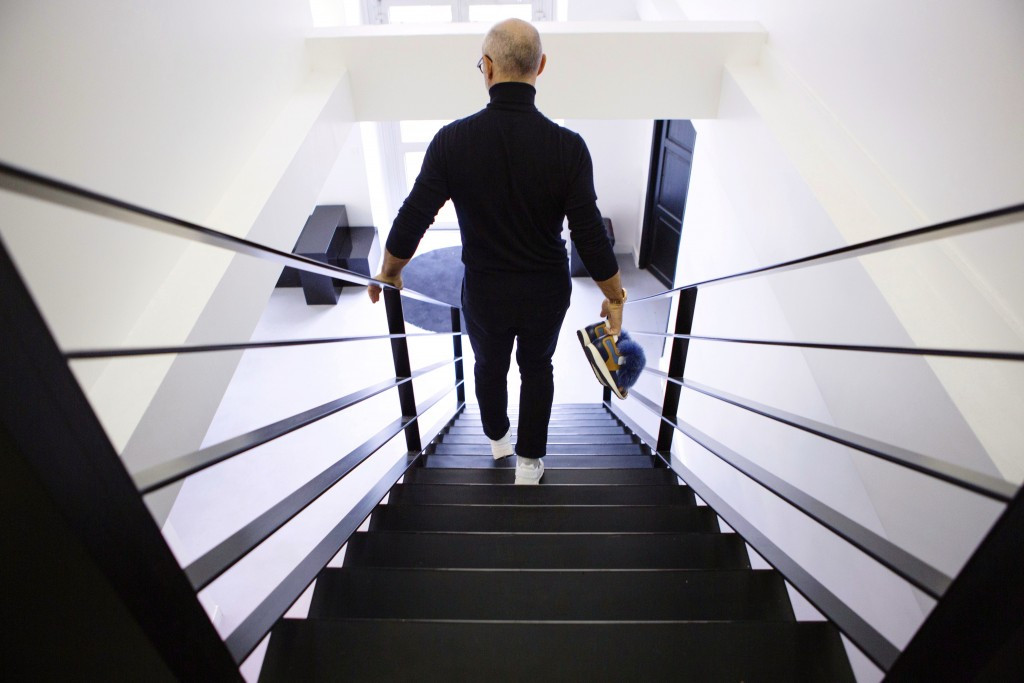 The Elegant Mr. Hardy
I have always loved handbags. Don't ask me why. I just do. It's my thing. Of all my favorites, there is one I am particularly fond of , the Alpha Clutch designed by the elegant Mr. Hardy. Graphic, elegant, contemporary it encapsulates everything I love in a bag.
But who exactly is the man behind this beautiful handbag ?
He is one of today's fashion's leading footwear designers who has expanded into bags and built over 200 points of sales including three Pierre Hardy boutiques. His name may not have the same recognition factor as Manolo Blahnik or Christian Louboutin but his designs whether for Hermès or for his own label, (which incidentally is now part-owned by Hermès) or for Balenciaga, where he created shoes for Nicolas Ghesquière, boast a quirkiness that has a passionate following. 
Monsieur Pierre Hardy is an artist who's background touched several fronts, fashion illustration, dance, scenography and fine arts before coming to fashion accessories.
His introduction to the world of fashion came by chance as he explains in a recent interview. Many of his school friends were working in fashion. Through them he met people from this milieu who asked him to make illustrations for them. One day in 1987, a girl who ran the style office he was working for, was promoted studio director at Dior. She asked Hardy to follow her and draw the shoe collection for the fashion house and thus began this new chapter in his professional career.
For three decades, Pierre Hardy has exerted his influence on the world of fashion. Inspired by contemporary art, design and architecture he creates graphic forms that are strong and plays with colours which make his creations modern and sensual.
In 1990, the Paris born designer came to Hermès where there was no existing shoe collection to speak of. His elegance and effortless cool designs became instant "classics". He was behind the iconic Oran sandal with its leather top forming the shape of an H and the Quick trainer made entirely of leather which in 1998 was a huge innovation making Hermès the first luxury brand to create such a trainer.
Hermès signature shoes : Oran sandals and Quick trainers by Pierre Hardy, creative director
In his creative process, Hardy is not a nostalgic, who continually dives into the archives for inspiration, on the contrary. Through geometric shapes, he finds a balance between creativity and elegance. He explains "Today we dispose of different amazing tools that allow us to do more: unbelievable sneakers, crazy materials. So let's play with that instead."
"At Dior, I learned a lot about the icons of a brand: the monogram, the colours, the sign, the typography, the history—and how to play with these elements and transform them into a shoe collection. With Hermès, I learned much more—and much more differently. I learned honesty in design, the product, the creation process. Ultimately, I learned what luxury was."
Pierre Hardy has designed his own label since 1999 and has been in charge of shoes and jewelry at Hermès for more than 15 years. In an interview with Coveteur, he explains that the moment to launch his own line came with the need to express his own voice and not "talk" for someone else.
I [wanted my own line because] I noticed when I was drawing and designing there were some ideas that I couldn't explore and express for other brands. I said, 'Okay, let's build a space to make this happen.' That's what I did!"
Opening his three shops has been the highlight of his career. He explains : "This may sound weird but the biggest highlight for me is when we open a new store. The first one was in Paris at Palais Royal, then in New York and Tokyo. You are in the window, in real life, and no longer in the intimacy of the studio anymore."
Pierre Hardy enjoys what he does and combined with his natural drawing skills, vision and savvy, makes him one of the most respected talents in the industry. Look out for more creations from this talented low-key designer who is so hot his die-hard fans keep his name to themselves.
I have added myself to the list of die hard fans, for some time now.