From corner store to concept store, retail has taken many forms yet the ingredients for success remain the same.
Pre-pandemic, from Vancouver to Lagos, Shanghai, Amsterdam and Milan, and many more fashion capitals in between, new concept stores were popping up all over the world : each more different from the other, each location and scenography more original than the other. And more importantly each eclectic selection more delightful, amusing and impressive than the other, even for the most demanding client.
However when speaking of 'concept stores' one can't not mention the legendary Colette. The iconic fashion and lifestyle institution which reigned over Paris since its launch in 1997, and was the authority on what was 'going to be next' in terms of trends. 'From book signings to concerts to panel discussions on sneaker culture, Colette's status as a hub for genuine cultural "happenings" has helped to sustain and propagate the store's buzzy atmosphere,'. With its curated edit of merchandise, creative window displays and one of a kind collaborations, Colette was the model, the inspiration, the envy of commercial retail for twenty years until the founder Colette Roussaux and her partner-daughter Sarah Andelman pulled the curtains and stepped back gracefully on December 20, 2017. It was the end of an era.
"As all good things must come to an end, after 20 wonderful years, Colette should be closing its doors on December 20 of this year," the company said in a statement. "Colette Roussaux has reached the time when she would like to take her time; and Colette cannot exist without Colette. »
Exit Colette, leaving nonetheless a legacy that continued to inspire future generations of brick and mortar stores such as Cibone in Tokyo, Gentle Monster in LA or The Apartment in Copenhagen.
If one steps back, historically speaking, retail and its 'department stores' began popping up in America and Europe by the late 19th century and early 20th century. The corner 'mom and pop' stores and traditional haberdashery were replaced with new retail institutions. It was the era of the Liberty's (1875) and Selfridges (1909) in London, the Macy's (1858) and Bloomingdales (1861) in New York and Le Bon Marché (1838), Printemps (1865) and La Samaritaine (1870-2005) in Paris. Tastes changed, buying power increased, the traditional drapers and cloth merchants understood this. A new rising generation of middle class women were now to carry the innovative « department store » to greater heights. Opened in 1909, Selfridges was unconventional and innovative at several levels. Astonished customers explored the hundred departments along with restaurants, a roof garden, reading and writing rooms, reception areas for foreign visitors, a first aid room and most importantly, a small army of knowledgeable floor walking assistants who served as guides to this retail treasure trove as well as being thoroughly instructed in the art of making a sale. Harry Gordon Selfridges moved the high profitable perfume counter front and center on the ground floor, a concept still applied today in the luxury department stores worldwide.
Stores no longer just sold items, they provided demonstrations, lectures and entertainment events that appealed to new wealthy customers looking to spend their disposable income and look good. It was now a destination. A social meeting place the new agora. The period coincided with the expansion of bold architecture and contemporary design. Department stores hired architects to express their innovative influence. Whether in Art Nouveau fashion for Le Bon Marché and La Samaritaine in Paris or Beaux-Arts classicism for the British, retailers led the way. The introduction of electricity and the invention of the cash register contributed to further evolve retail.
Moving forwards to the late fifties, the suburbs and the growth of automobiles rendering cars available to the masses, allowed more people to leave cities and commute. Enter the shopping mall. The mall envisioned as a cultural and social center where people could come together and not only do their shopping but also make an activity of it. By 1960 there were more than 4,500, in the US. Today however with e-commerce sales growing, the appeal of malls has gradually declined, hitting a twenty-year low in sales in 2019 which has most definitely decreased even more due to the pandemic of 2020-21.
Widespread internet impacted retail and shopping and in 1995 Amazon took the world by storm first as a simple online bookseller to today's powerful online retail platform that reported in 2018 a net income over $10 billion dollars. The growth of e-commerce mirrored the growth of internet. The whole shopping experience evolved as more and more people had access to the digital world and thus shopping online.
Interestingly we've moved from the humble beginnings of the corner stores to department stores, to today's overwhelming shopping platform, yet despite these fundamental changes, retail has returned more and more to the physical, brick and mortar formula via the curated boutique or concept store. Why ? because humans are social and enjoy meeting up, going out and experiencing things. Thus the circle is complete.
A client is looking for 'a shopping experience' that offers a targeted selection, good service and trained staff in a stimulating environment, nothing more and nothing less. Harry Gordon Selfridges seemed to have understood clearly that notion. When a client is happy it means that the shop has found the right balance. At the end of the day, it all comes down to customer experience and as Mr. Selfridges coined it, the customer is always right'.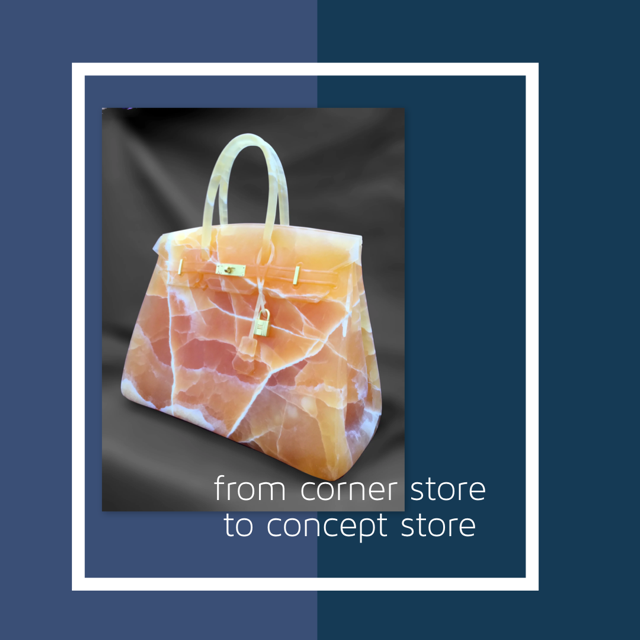 Hits: 401