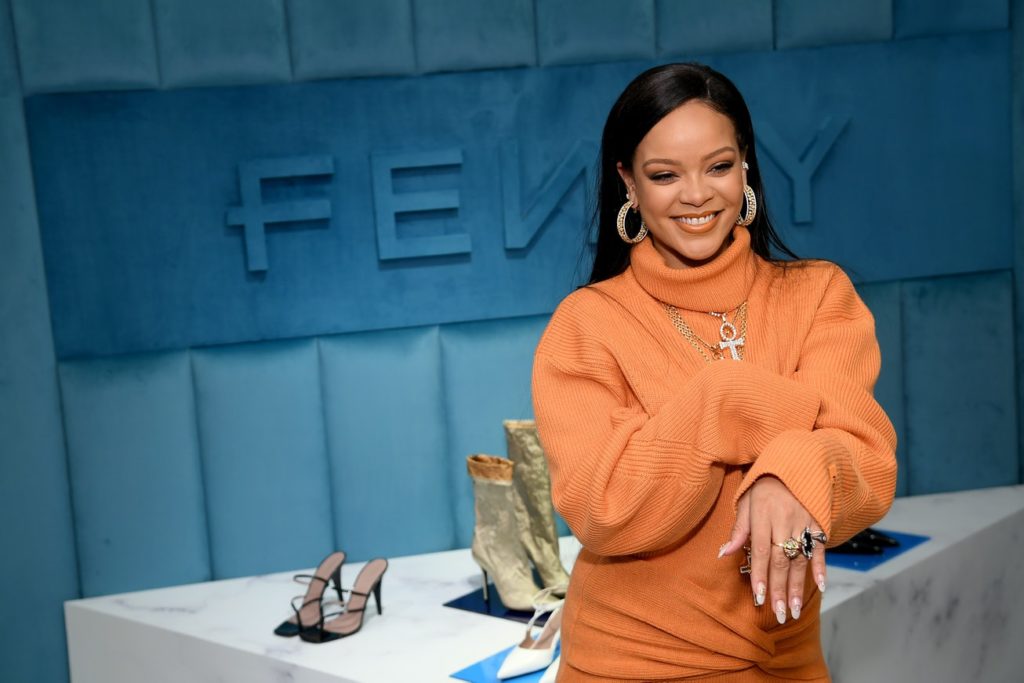 Summertime in the company of Rihanna
Summer is back. It's official.
Our interminable pandemic spring may have rolled into a precarious summer but the warm long sunny days are here and we can at least rejoice about that.
I associate summer with many things. Music is one of the first things that comes to mind. Listening to suave Brazilian bossa novas melodies while lounging in the warm breezy garden is one of my favourite moments. As the day progresses so do the tracks, as my mood changes so do the rhythms.
As I'm always attentive to new sounds I downloaded Rihanna's newly released series of curated playlists from her fashion line Fenty. The playlists are available exclusively on Apple Music, and Rihanna is one of the many celebs who have been tapped as part of the streaming platform's series of playlists for the summer.
Although Rihanna hasn't dropped any new tracks herself as yet, she enlisted her luxury brand's closest friends and collaborators to showcase their favourite songs and music genres. Some of the curators include Fenty's Deputy Creative Director Jahleel Weaver, model Imaan Hammam (afrobeat, hip-hop and dancehall) , creative director Angelo Baque (salsa, funk, 80's club classics and rap) and musical artist Steve Lacy (Blood Orange, Solange, Frank Ocean).
This new music initiative is described on the Fenty site as "a series of summer playlists to soothe your soul and lift your spirits" embracing contemporary sounds from across the globe. An overly enthusiastic target perhaps but I'm sold. Summertime will be for me in the company of Rihanna.
The selection is a feel good mix spanning newcomers to 70's RnB covering various musical genres. Each playlist comes with its own unique cover art, designed from Release 6-20 prints and stamped with the Fenty Maze logo. What is there not to like.
But the playlists are only part of the tip of an iceberg or rather one facet of the multi-faceted personality – Rhianna.
Barbados-born Robin Rihanna Fenty is known to many as a singer, song-writer, actress and businesswoman. It was as recently as 2005, that she moved to the US and signed with a music studio where she released two studio albums that peaked within the top ten of the US Billboard 200 chart.
Since then and 33 Grammy nominations later, she never looked back.
Embracing various musical styles and reinventing her image throughout her career, Rihanna aged 32 is unstoppable. Having sold over 250 million records, she is one of today's world's bestselling music artists. Time has named her one of the most influential people in the world in 2012 and 2018.
Alongside a successful music career, Rihanna is equally known for her involvement in humanitarian causes, for her entrepreneurial ventures in the fashion industry and in 2017 for the launch of a cosmetics brand Fenty Beauty.As though these past ventures were not enough, the multi-talented singer made history just recently as the first black woman to helm a major luxury fashion house. She founded in 2018 her luxury fashion brand Fenty in partnership with LVMH. When asked, Rihanna defines her brand as embracing the spirit of defiance, standing for freedom & inclusivity. Her collection is inspired by her personal style and offers a multicultural dimension. Rhianna is a woman of her time.
She explains in an interview with T magazine :
You're going to be black wherever you go. And I don't know if it's unfortunate or fortunate, because I love being black. So, sorry for those who don't like it — that's the first thing you see before you even hear my voice. There are also other factors: I'm young. I'm new to the family. I'm a woman.
Those factors do come into play, but I will not apologise for them, and I will not back down from being a woman, from being black, from having an opinion. I'm running a company and that's exactly what I came here to do. I don't know if it makes people uncomfortable or not, but that's not even my business, you know? I do know that the reason I'm here is not because I'm black. It's because of what I have to offer. That's what they're invested in. And the fact that I'm black is just that: a fact.
I am in awe of Rihanna's professional trajectory and how over the course of her relatively short career, she has positioned herself as one of the most influential artists of this generation. She is a woman with a vision.
Someone to be inspired by. For now, I will content myself this summertime with her musical insight and compilation of music, sound and genre. Time for me to leave you and to return to my Fenty playlists – what should I tune into now, Afrobeat, salsa or 80's classics ? Decisions, decisions, tough decisions…….
You can find all the playlists here